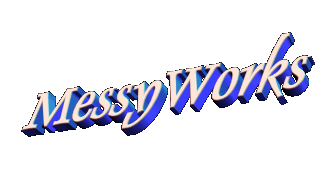 Merchandise
MessyWorks will soon be offering a variety of merchandise to include photos, videos, clothing items and more!
MessyWorks photos will include high-quality glamour shots of the girls, plus great action and still photos of the girls taken during shows.
We will also have auctions on several auction style websites that will have collectible items such as autographed photos and programs, clothes and towels worn by the girls during the show (to include Certificates of Authenticity), and other unique items. If you want to be kept informed of updates to this section, send a blank e-mail to fansofmessyworks-subscribe@yahoogroups.com, or click the box below, and we'll send you notices whenever we have something new for sale posted in this section.
We are proud to be partnered with clothing company Something WILD In California, who is providing the clothes worn by the girls on camera. Something WILD In California is the exclusive distributor of clothing worn by the ladies of MessyWorks.
To keep updated on clothing items for women sold through here, send a blank e-mail to WILD-Chicago-Fashion-subscribe@yahoogroups.com, or click the box below. The website for that group will, along with this area, show all of the great clothes for women available! Some of our items will even be embroidered with some great "messy" catch phrases! You can also special order embroidery for your outfits! A great way to show you are a supporter of the right of women to get messy and have fun!
Check out the pictures below for complete descriptions of all our items for sale!

Click to join fansofmessyworks
THONGS
One size fits most on these thongs. They are all handmade and 100% unique. When they are gone, they're gone, no more fabric remains for these styles. All thongs are $12, shipped. Contact gdennis@sfpincchicago.com for info on ordering these thongs.
| | | | | |
| --- | --- | --- | --- | --- |
| LEOPARD & PURPLE MENS THONG | LEOPARD & RED MENS THONG | MENS YELLOW NEON "PSYCHEDELIC" THONG | MENS BLUE "ROAD TRIP" THONG | MENS PURPLE "ROAD TRIP" THONG |

HIS & HERS SHEER "WETLOOK"
VALENTINE'S DAY THONG


HIS & HERS "GET LUCKY" THONGS
MESSYWORKS BRANDED MERCHANDISE

MESSYWORKS EMBROIDERED LOGO TERRY-CLOTH BATH TOWEL
Price=$20 (plus shipping)
| | | |
| --- | --- | --- |
| | Back Home | |